Interactive and Performance Art by Tripp
Tripp has developed and provided entertainment for numerous events with his interactive live paintings.
Pictured: In Partnership with the Philharmonic Society of Orange County, Tripp created a 25 min live performance painting with Grammy nominated pianist Joyce Yang (music composition by Robert Schumann). This performance was a prelude to the Laguna Beach Music giving attendees a one-of-a-kind private experience.
The sky is the limit on where Tripp can create. He provides entertainment for his 6K+ followers on Instagram by demonstrating his ability to paint in different environments!
Pictured: Underwater Painting in Barbados
Tripp creates completely one of a kind alternate universes in virtual reality. Using Google Tilt Brush, he creates trippy environments, and immerses viewers into never before seen 360° universes.
With unlimited potential, these environments can be developed for just about anything. The viewer is submerged into an experience that is absolutely unforgettable.
Pictured: Tripp developing a branded experience for Crystal Head Vodka in which viewers are taken through a virtual branded playground.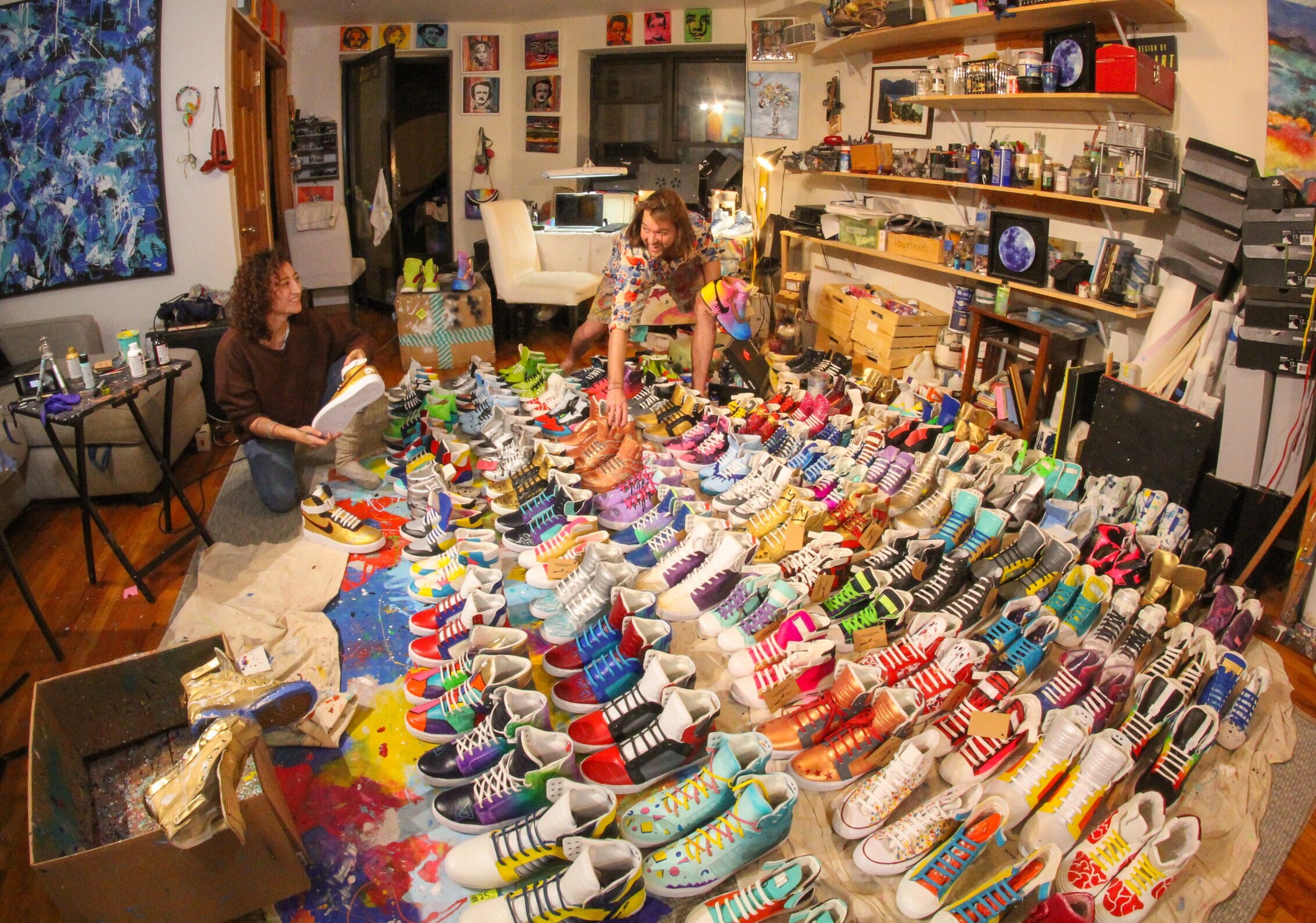 Tripp has created multiple vibrant bespoke pieces for individuals and large companies. He has created customized trainers, belts, jackets, bags, purses, sculptures, and centerpieces.
Pictured : 210 customized trainers for the London Design Center.
Tripp is a featured artist on NBC's premiere art streaming service, BluPrint. He has taught numerous tutorials, such as hydro dipping, dirty pours, and other methods of DIY art processes.
He was also a contestant on BluPrint's Doodle Wars, an artist competition show showcasing different talents and putting them in front of judges.
Mixed Media Installations
Whether it's a high end trade show or exclusive parties, Tripp creates engaging one-of-a-kind installations based on the theme or industry. These provide not only entertainment for the guests, but also create opportunities to interact with the overall brand facing experience.
Pictured: Tripp with custom painted suitcase installation for HRPR (Travel) trade show.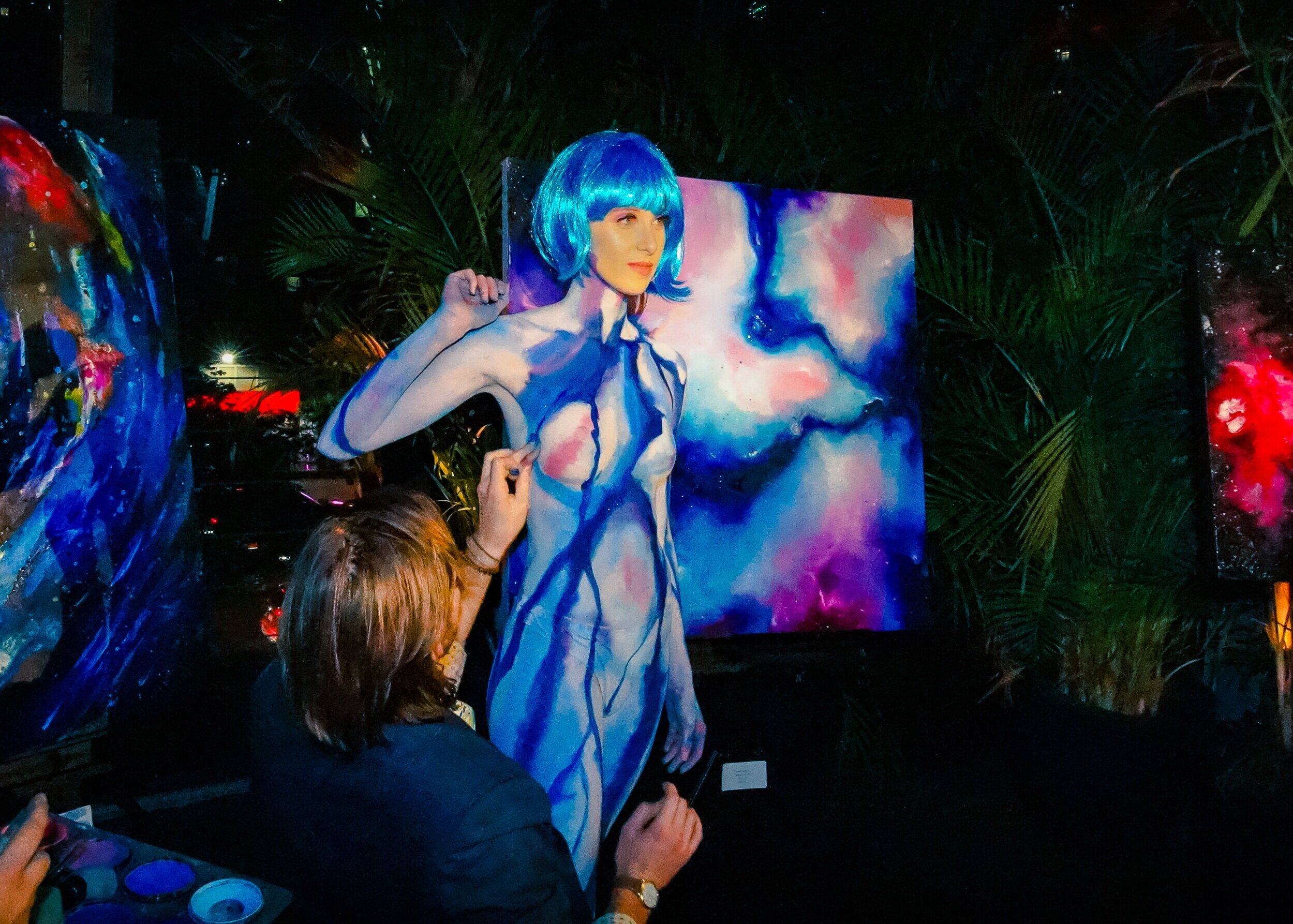 Tripp creates a unique experience on any canvas, including the human body!
Pictured: Tripp painting details on a model, painted in front of and in likeness to his painting Cosmo Candy.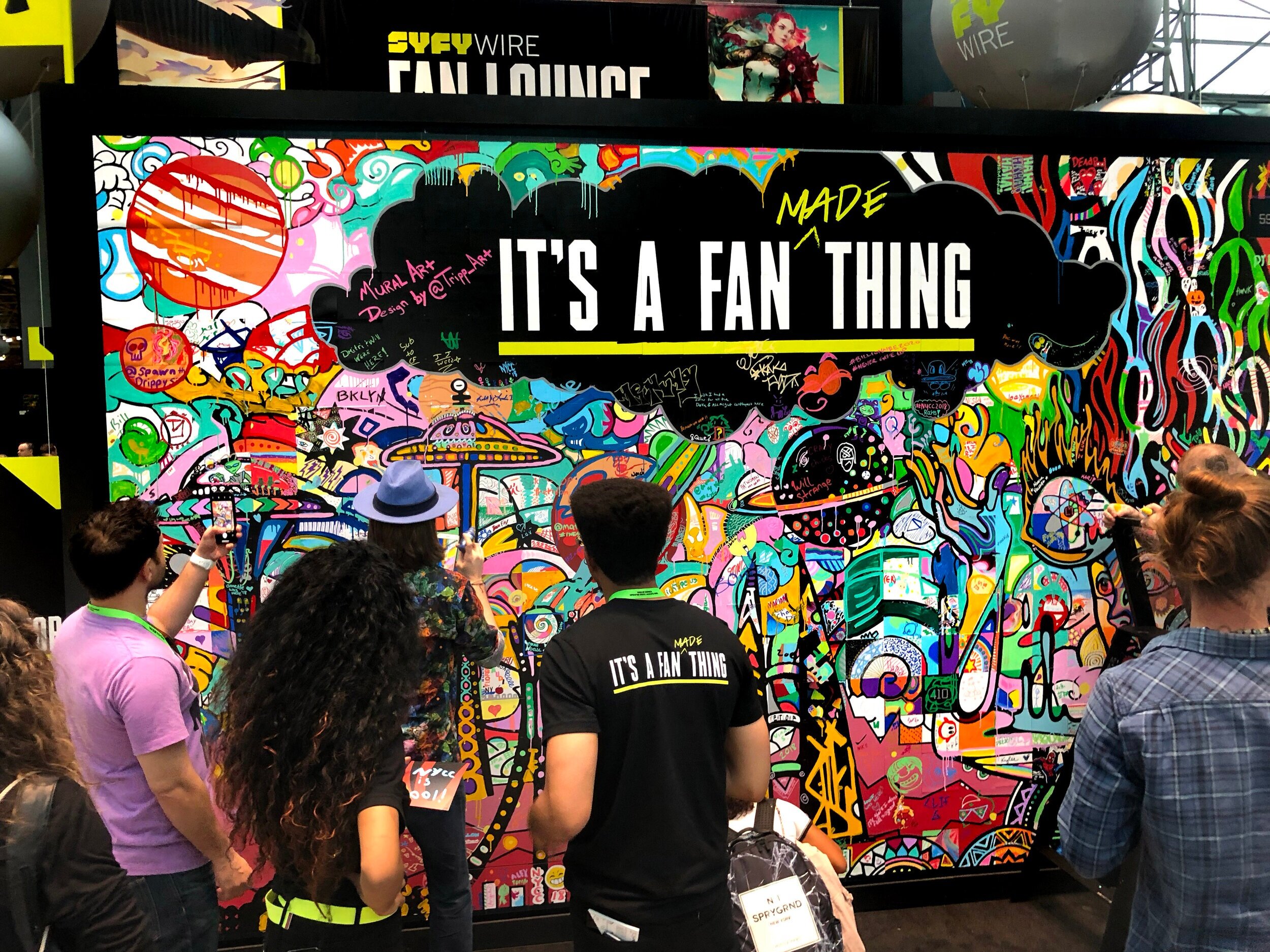 In partnership with SYFY and NBC, Tripp and his team created a completely unique experience for the 400,000 New York Comic Con attendees over 4 days.
Tripp created and executed a 400 piece interactive puzzle that changed designs each day. Attendees were able to choose their own 3"x 3" tile and with Tripp's hands-on guidance were able to create a bigger picture.